Pronovias Designer Trunk Show 10th-11th March We are offering 10% off all our Pronovias collections for this weekend only
Appointments are filling up fast – so get in touch!
Pronovias has the most diverse bridal collection in the world with seductive wedding dresses that highlight the female form with options for the most classic and romantic brides to the most modern and daring. Pronovias has a dress for every bride!
Finding the perfect dress can be a complicated task. If you've started trying bridal gowns on, you know what I'm talking about, because while it's true that you, the bride knows what she wants and doesn't want, it's also true that sometimes we have too many ideas and it's hard to figure out what we're really looking for.
The best thing to do in these cases is to start with one style and try on dresses until you find the perfect one for you. You'll instantly know it when your face lights up when you see yourself in the mirror, and because you won't want to take it off.  Sometimes you just know .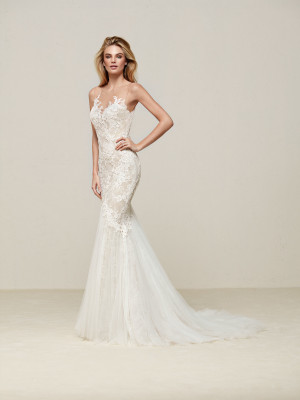 As we all know, any bride wants to feel special on her wedding day. She wants to be elegant, sophisticated, but also to feel feminine and… why not sexy too? It's a question of attitude, although it's true that the actual dress plays an essential role in the overall look & feel. When you feel special you'll also radiate a little sexiness too.
A bride wants and deserves to feel beautiful on her most special day. And a good dose of self-confidence, makeup that enhances her features, and a flattering hairstyle will help.  But of course, the bridal dress has to do its part.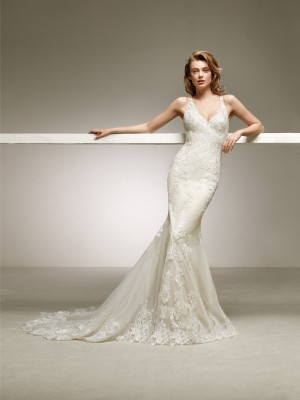 There are many options for finding that design that makes you feel unique, from one that accentuates your figure naturally, with a lovely and elegant neckline on the back, to a dress with illusions that insinuate more than they actually reveal, or delicate lace and beading instead.
One of the ones I like best is the Drusila from the Pronovias 2018 Collection.  A stunning bridal dress with a A full skirt in crepe and lace, fitted at the waist and to the body with a sensual V-neck and magnificent back with lace appliqués.  A wedding dress that has lace and gemstones that are the highlights of this original magnificent mermaid. A unique wedding dress for a unique bride.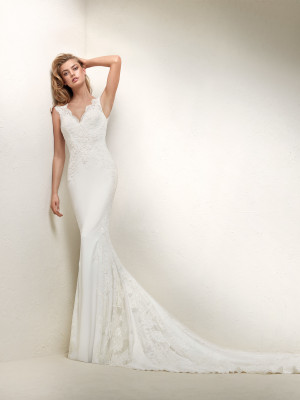 Whatever your style, if your goal is to achieve that sexy look some brides want, you're going to find it very easy this season. Because sexiness is a trend, and it's present in nearly all the bridal collections, combined with large doses of elegance to leave everyone speechless, especially the groom.
Pronovias has the tradition and innovative design in the most complete wedding gown collections. This season's  bridal collection has been created to amaze and to flatter the female figure with sophistication, elegance and innovation in each of the designs.
If you like the bridal styles and find yourself swooning over these pronovias bridal dresses then I suggest you make an appointment at our Pronovias Designer Trunk Show 10th-11th March to try it on and live the Pronovias experience in our boutique.
Request an Appointment Here.