Woohooo!! We are once again Regional Winners Best Bridal Retailer in Yorkshire and the North East in the Wedding Industry Awards 2019
We have ran our business for the last 15 years with lots of up's and downs and once in a while something amazing happens and yet again this week something utterly wonderful has happened. We have won the Wedding Industry Awards – Best Bridal Retailer of the Year 2019 in the North East. We have now won this twice in the last 3 years and have been Highly Commended too. We are so proud and surprised as this came totally unexpected and out of the blue. This award is a stringent test on the business as well as votes from our happy customers.
So a massive thanks and well done to our amazing staff who work hard every day to ensure our high standards of customers service are maintained and to the brides who took the time to record their views and vote for us. We now look forward to the finals of the National Awards.
The Awards are scored and Judged by having people nominate the business who have had a wedding over the last year or so and along with a judging scoring process on the business is used to identify the shortlist and winners so this is a very fair and transparent way of doing things.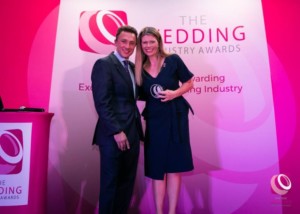 The Wedding Industry Awards is all about quality. The system allows suppliers of all shapes and sizes to compete on a level playing field.
The judging panel consists of leading industry experts along with previous winners.
So a massive thank you to all our fabulous and wonderful brides for taking the time to vote and make wonderful comments. you can see the kind of reactions we get on our facebook page, google page and looking at our brides testimonials on the website.
Also another massive thank you to all girls in our team who work tirelessly to ensure all our brides have a fantastic experience in choosing and buying their very special wedding dress.
Lots of Love and Happiness Joy xxx
Looking Froward to the National Finals too